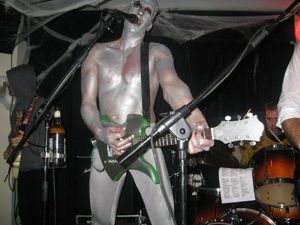 ABOUT SUPERHERO
Michelangelo D'Amico – Guitar & VocalsDanny Cavazzi – Drums & VocalsClint Amereno – Bass & VocalsSUPERHERO
is a professional high energy rock band based out of Greater New York specializing in 80s, 90s and modern pop songs.  We perform every week in Tri-State New York (including monthly shows on the Upper East & West sides of Manhattan).  No matter the scenario, if you're looking for an entertaining high-energy band that plays nothing but extremely popular music catering to ages between 20 & 50 then Superhero is exactly what you're looking for!
We have a natural knack in getting people into "Party Mode" and making the night come alive!  Our number one priority is making sure everyone has a great time at the venue.
"SUPERHERO" is known for their outstanding professionalism and is dedicated in making your upcoming special event an overwhelming success.  Each musician in the band is a seasoned New York professional with years of experience.
Many of the venues we perform at are night clubs and bars, but we also play a good number of
ROCK-N-ROLL WEDDINGS
for couples who desire a
non-traditional
wedding band.  Many couples choose not to hire traditional wedding bands who perform typical standards.  If you are looking for a band with a modern approach to all your favorite songs, then SUPERHERO is the band you want to hire.  An example of our approach for your special day is how we work with the bride and groom and
customize
our play list to exactly what is envisioned from the beginning to the end of the reception.
SUPERHERO also does corporate events and private parties.  
For booking information, audio snippets, or schedule inquiries, please contact:
Michelangelo D'Amico
michelangelo@superherorocks.com
(914)924-4600
We look forward to hearing from you!